Winning Tactics for San Francisco Fire Damage Remediation
4/7/2019 (Permalink)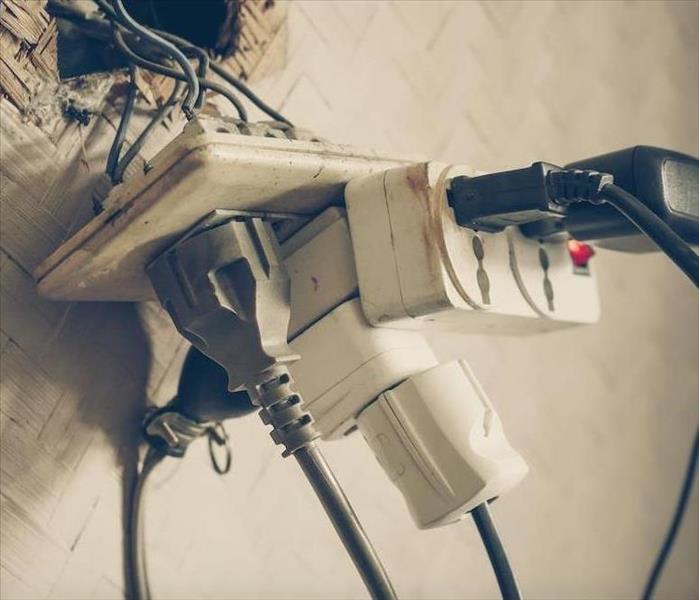 Turn to SERVPRO when overloaded sockets cause fire damage in your home. We make it "Like it never even happened."
Get Prompt Fire Damage Restoration for Your San Francisco Residence
Home fires occur due to many reasons, one of them being overloaded sockets. If you plug many devices into an outlet using extension cords, too much power is drawn into the outlet's apparatus, causing it to overheat, and possibly melt, ignite or malfunction. To deal with the aftermath of a fire, you need fire damage restoration services. Walls, ceiling, and carpets can absorb the smoke a fire leaves behind, and it can remain even after several months. You can avoid long term problems and high repair bills if you follow the right steps to get your property back to normal.
The most crucial step is contacting a fire restoration service like SERVPRO. Our technicians can assist you in restoring your San Francisco residence after fire damage. We have the technical expertise to assess your property and then plan and complete the restoration process. We respond to calls within an hour of receiving them and begin the cleanup process quickly since fire damage is corrosive.
We use our expertise to deal with fire and smoke destruction. Your carpets, floors, walls, and ceilings may need a thorough cleaning. SERVPRO technicians use the appropriate cleaning products and equipment to clean and protect different surfaces. We can clean the soot on the walls in preparation for refinishing or painting.
We can also clean and deodorize the restorable contents like furniture, area rugs, upholstery and draperies in the affected areas. We also clean and deodorize possessions like bedding, clothing, art, and electronics to restore them to the preloss condition. Deodorization eliminates bad odors.
If the fire was massive, fire-fighters might have used a lot of water used to put it out. The water has to be cleaned up for it can ruin construction materials and contribute to mold growth. We can use dehumidifiers, water extraction units and blowers to quickly remove the water. We can also assist you in filling out the insurance forms required to claim damages linked to your fire accident.
After a fire, SERVPRO of Belmont / San Carlos can help you to restore your property. We have the expertise to make your home look like it never caught fire. We're Faster To Any Size Disaster. Contact us at (650) 591-4137 for fire damage restoration services in San Francisco, Redwood City, and Foster City.
Click here for more information about San Francisco.