Call SERVPRO To Avoid Issues After Flood Damage In San Fransisco
5/2/2019 (Permalink)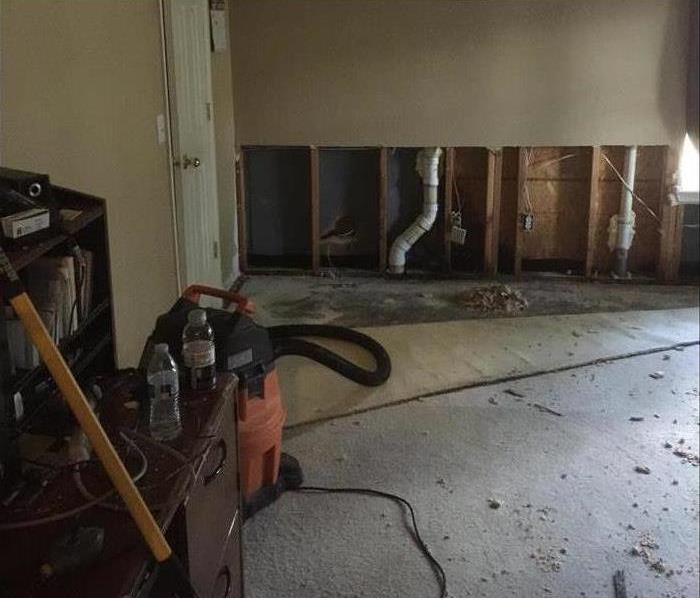 This torn roof allowed a strong wind to dislodge a water supply line in the wall of this house and we had the equipment needed to restore the home.
Managing Secondary Problems Likely to Occur After Flood Damage in San Francisco
A flooding incident in your property can leave you grappling with enormous financial and sentimental losses as the water soaks into items or deposits soils in different sections of your property. Avoidable problems can also develop if there is a failure during the restoration processes. Hiring a professional flood damage restorer can help prevent undesired outcomes by following the right procedures.

Most incidents of flood damage in San Fransisco only harm the structure and contents. However, it can affect occupants who try to save items without observing safety procedures. Floods mostly involve black water especially if it is a case of rising waters. Such water contains chemicals and biohazard wastes such as raw sewage so it can transmit disease-causing microorganisms when people wade in without proper protective gear. Flooding also increases the risk of electrocution if there are downed power lines or the water level reaches electrical outlets in the house. Our SERVPRO technicians use a variety of protective gear to avoid such risks. We have rubber boots that protect our crews from electrical shock and contact with harmful substances in the water. We also have full body suits, electrical testers, and other safety equipment.

Because floodwaters reach many concealed areas including subfloors, cabinets and wall cavities, there is a need to remove it properly. Leaving traces of water in such areas leads to many secondary problems including mold development and rotting or warping of wooden materials. Our SERVPRO technicians use different approaches to prevent such problems. We use thermal cameras to check for wetness in concealed sections then make flood cuts or drill vent holes to remove water. We can also use specialized equipment such as the injecti-dry system and drying mats.

Drying excess moisture from flood-damaged properties is part of the restoration process. The process mostly involves evaporation of the water that soaks into materials. Failure to manage the drying process can lead to other problems such as condensation or transfer of moisture to unaffected areas. Our SERVPRO technicians calculate the right combination of air movers and dehumidifiers for balanced drying.

To avoid recurring issues after flood damage, call SERVPRO of Belmont / San Carlos to help restore your property to its preloss state. You can reach us at (650) 591-4137 any time. We're Faster To Any Size Disaster.
Click here for all you need to know about visiting the Golden Gate Bridge