Effective Cleaning Actions to Remove Fire Damage Residues in San Francisco
1/8/2020 (Permalink)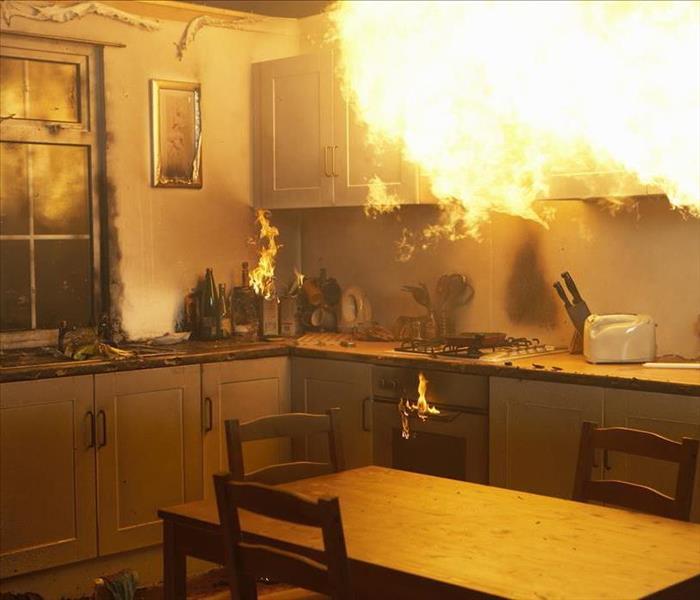 SERVPRO's cleaning techniques will give you the very best results in bringing back your San Francisco home from fire damage.
The SERVPRO Method for Properly Cleaning Soot from your Fire Damaged San Francisco Home
When our crews analyze the residues left by a fire in your San Francisco house, we match our proprietary cleaning solutions to the characteristics of the soot evaluated and the surfaces upon which the coatings cling. One of the next steps then made is to choose among the most efficient cleaning actions for our technicians to employ while trying to break the tight bond between the soiling and the structural or contents' surfaces.
A Quartet of Options
As they apply cleaning products to soot-encrusted surfaces, our technicians must take care not to worsen the damage or destroy an underlying surface because it is not durable enough to withstand the cleaner and the action. SERVPRO follows a protocol that emphasizes pretesting and continual adaptation to clean the residues away appropriately eventually. Four general cleaning actions comprise the repertoire of what our employees attempt:
Mechanical Action -- Examples include a pre-cleaning scrub or dusting to reduce loose debris before using agitation to dislodge adhered soot
Lubrication -- Using cleaners like detergents with wetting agents and surfactants to make surfaces or residues slippery to break their hold on each other, moving the soot into the cleaning suspension.
Chemical Action -- Some substances can change the characteristics of soiling at a molecular level, loosening bonds or altering their effect on a surface or material to remove staining. Oxidation is an example.
Suspension and Dispersion -- Finding a cleaning product that contains a substance that dissolves or emulsifies the soiling and then disperses it in the solution so it can be removed.
The Science of Dissolving Soils
SERVPRO technicians learn and apply the principle that "like dissolves like" when matching products with the residues that need removal. Hydrophilic or water-based/loving soils easily dissolve in water. Lipophilic or oil-based/loving soils easily dissolve in oil. Oil-based soiling sometimes emulsifies or spreads evenly throughout water, often with the help of detergent molecules that have a tail that attaches to the oily soil and a head that attaches to water.
Use of Solvents
Some protein and oil-based soot, such as the residue after a kitchen fire, requires the careful use of a solvent to dislodge. SERVPRO technicians handling solvents use personal protective equipment (PPE). We advise the evacuation of people and pets during solvent use and block the HVAC system, so the vapors do not spread throughout your home.
Finding the right combination of products and cleaning actions can be tricky after a fire deposits residue. Let the trained experts at SERVPRO of Belmont / San Carlos help by calling us at (650) 591-4137.
Learn more about San Francisco.