SERVPRO Handles Your San Francisco Fire Damage From Cleanup to Complete Restoration
1/20/2020 (Permalink)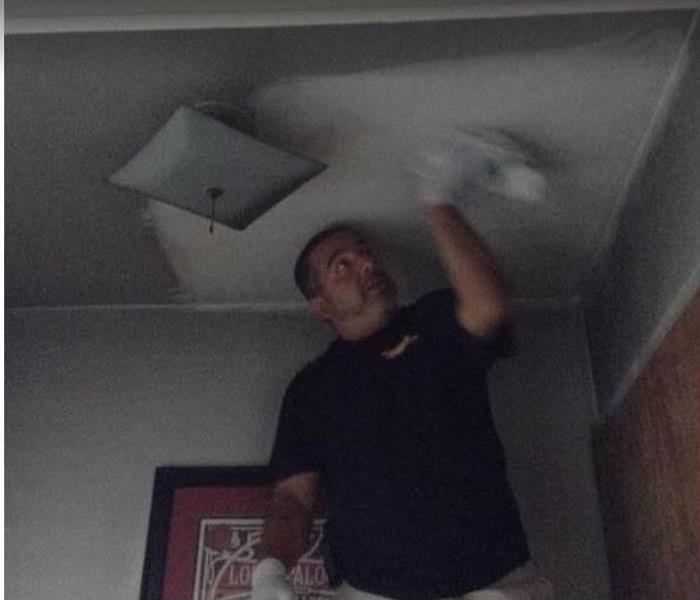 One of our technicians is removing soot from the ceiling. We have specialized cleaners for soot and smoke removal.
Why Are Contents Piled in the Middle of the Floor After Fire Damage in San Francisco Homes?
Fire damage is a type of loss that homeowners can plan what to do in case it happens. Still, the total prevention of fire is difficult due to the myriad of factors that can cause a home blaze ranging from electrical malfunctions, improper storage of items in a garage or arson.
When homeowners see the fire damage in their San Francisco homes after a loss, one of the biggest questions they often have is how did their possessions wind up in a pile on the floor?
Fire Loss Cleanup
SERVPRO technicians encounter these piles frequently during cleanup and restoration. It happens as the firefighters use water to extinguish the fire. They pull the contents to the center of the room and wet them down. Each time more items get added, the piles receives another blast of water to ensure nothing reignites. The result is the same when the technicians arrive for cleanup, a collection of wet debris that needs removal and disposal as fast as possible to limit loss. At the same time, they remove charred building materials to open up the structure for drying, soot removal, and deodorization to ready the property for reconstruction.
Documenting the Loss for Homeowners
As items get removed from the property, SERVPRO techs photograph and give a detailed description of the article, its condition, and reasons it did not have restoration potential. This report assists homeowners in filing their insurance loss claims and expediting reimbursement.
Restoration and Reconstruction Services
It is an excellent idea to let the company that handles the restoration also handle the rebuilding. With their general contractor license #937457, once the fire loss cleanup efforts complete, the techs can go straight into the repairs necessary to restore the home to its pre-fire condition.
SERVPRO of Belmont / San Carlos at (650) 591-4137 serves the area in the cleanup and restoration of local properties from any size fire damage. Using their knowledge and equipment, the technicians make the loss, "Like it never even happened."
More about San Francisco.