SERVPRO Provides Board Up Services to Secure San Francisco Homes After Fire Damage
3/3/2020 (Permalink)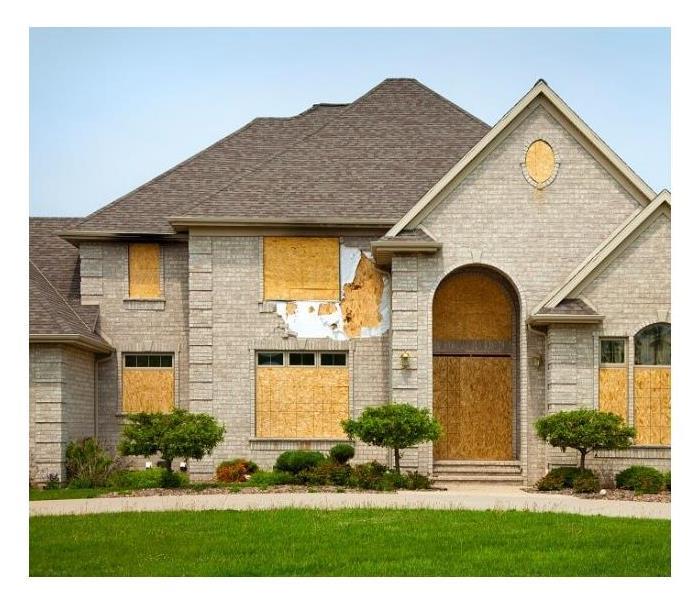 Windows are frequently broken while extinguishing fires. SERVPRO has board up services to secure your home while the restoration work begins.
Fire Damage In San Francisco Can Require Boarding Up A Structure
If an inferno ever ignites inside your San Francisco apartment complex, the problems created by the heat and smoke can be quite catastrophic. If the flames burn for a long time before getting extinguished, they can cause you excessive fire damage. If the blaze burns hot, then they could destroy a large number of your contents and building materials.
During many fire damage cases in San Francisco, the windows get blown out, or they get broken by people trying to escape or by the firefighters attempting to extinguish the flames. The exterior doors of the home also often get purposely broken or destroyed in the fire. Having your building exposed to the outside due to broken windows or exterior doors can cause you more issues with items inside your dwelling.
Once the fire gets extinguished, our SERVPRO crew starts by assessing your building for any safety hazards. Once any potential safety concerns get mitigated, we then work towards boarding up your structure. The board-up procedure helps secure your structure after there are openings in it caused by the inferno as well as shield it from the elements of the outdoors.
In many cases, our SERVPRO technicians can conduct the board-up process ourselves as a first step in the mitigation process. However, some local regions may require that boarding up a structure gets completed only by a certified contractor with the proper license. When this is the case, we can refer the boarding up procedures to a subcontractor before we begin the restoration process.
Whenever the need arises to board up your charred structure, we can use exterior grade plywood along with other items like roofing tarpaulins, or rolls of polyethylene sheeting. When using plywood to secure the exterior of your building, we can attach it in three different ways depending on each specific opening. We can cover over the opening, insert wood inside the opening or bolt it with tension using two by fours. The most commonly used method is to cover openings with plywood by attaching to the surface around the opening with a hammer and nails.
If you ever need your structure boarded up after you suffer from a fire, call SERVPRO of Belmont / San Carlos at (650) 591-4137 24/7.
More about San Francisco.