How Do I Stop a Burst Pipe From Causing Damage in Redwood City?
5/31/2020 (Permalink)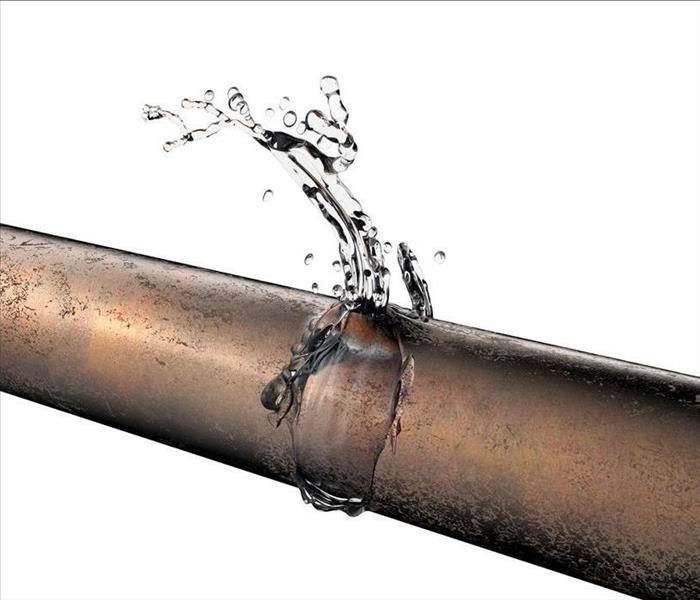 Make sure to react quickly when a burst pipe causes water damage in your home. We are available 24/7 for emergencies.
Residents Use Professional Water Removal Services in Redwood City for Pipe Bursts
Temperature changes can cause pipes in your home to expand or contract throughout the year. In older residential properties, pipes can burst or split as a result of the expansion. Burst pipes are a nightmare for Redwood City residents who can see as much as four hundred gallons per hour (GPH) of clean water entering their home. Stopping water to the pipe is essential to stemming the flood of water, but, likely, you may also need professional assistance to pump and extract the existing damage from your home.
What tools do I need for water removal?
Submersible electric-powered pumps
How can I prevent standing water from spreading?
Water naturally migrates from wet areas to drier areas. Water migration can be a massive problem in a clean water emergency in Redwood City because more and more of your home is exposed to water. Stemming the flow of water to other areas of the home may be as simple as shutting doors and placing towels at the hems. Our technicians can bring heavy duty sandbags to the property, which not only absorbs moisture but can also prevent water from migrating into wall cavities. Strategically placing sandbags can isolate the water emergency to a specific area, which, in turn, leads to a more efficient drying process.

What is the fastest method of removing water from a property?
Water extractors are up to 1,100 times more effective at removing water from home than dehumidification; thus, electric submersible pumps are still more efficient. Our truck-mounted water extractors can remove up to 100 gallons of water without needing to empty. Using a wide berth hose, we can enter residential properties and extract moisture from carpeting and floors quickly. In tenement buildings, it may be more effective to use portable extractors, which, while still efficient, have a limitation of around ten to twenty gallons before they need emptying.
Get rid of water from your home, contact SERVPRO of Belmont / San Carlos at (650) 591-4137.

Click here for more information about Redwood City.