Foster City Residents Count on SERVPRO for Water Mitigation
1/11/2021 (Permalink)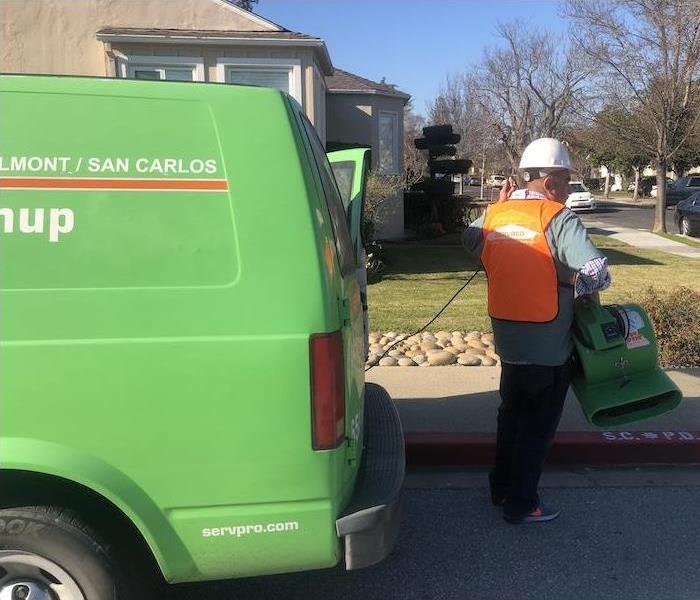 Secondary water damage is no DIY project. Call the professionals at SERVPRO for the knowledge, experience and latest technology for your home needs.
When Water Overflows in Foster City Homes Our Technicians Know Just What to Do
A mild Mediterranean climate, beautiful countryside, and low crime rates make Foster City a great place to call home. Approximately 33,000 people live, work, and play in this quaint town. Considered one of the safest cities in the United States, it is often considered part of Silicon Valley.
Founded in 1960
Foster City does not trace its roots back to the days of Native Americans like many places in California. It is a relatively new city. T. Jack Foster owned a good portion of the land that is now Foster City. He was a real estate magnate and saw the potential in converting an engineered landfill into something with a future. The town is located near the San Francisco Bay marshes. The city is named after Foster and in 2009 was on Forbes' America's Top 25 Towns to Live Well list. It came in at #10.
Home to Many Businesses
There are quite a few well-known businesses that have their headquarters in Foster City. Visa Inc. moved their headquarters there and, at one point, was the biggest employer in the area. Today the top 10 employers are:
Gilead Sciences
Visa
Inovant LLC
Guideware Software, Inc.
Zoox
CyberSource
Illumina Inc
IBM
CSG Consultants
BrightEdge
Recreational Activities Abound
Those who live in Foster City, work there, or come for a visit enjoy a variety of top-notch recreational venues. The city has more than 24 beautiful parks. Public soccer fields, baseball fields, tennis courts, and basketball courts abound. There are excellent rollerblading and biking trails that run alongside the San Francisco Bay. Needless to say, the view is stunning.
Mariners Point
If you love golfing or want to learn the game, Mariners Point is the place to go. They feature a 9-hole golf course and a driving range. They are well-known for their comprehensive teaching. The Mariners Point Golf Center is on public land and invites everyone from beginners to pros to stop by and enjoy a round of golf. They have 64 practice stalls that allow you to tighten up your game. Visitors can enjoy:
Well-tended natural grass practice tees
Driving range with easy-to-read yardage markers
Clearly defined target greens
Short game facility open seven days a week
Bunkers to practice pitching, sand shots, and chipping
Challenging 9-hole, par-three golf course
Windsurfing & Kite-Surfing Along the Bay
Adjacent to Mariners Point is a world-class kitesurfing and windsurfing spot. Baywinds Park is known for being one of the places serious kiteboarders head to for some kitesurfing. The winds in this area are steady and consistent, building throughout the day and peaking towards evening. Unloading your windsurfing gear is easy, as the park is right along the bayfront. There are also:
Concession stands
Kiteboarding rentals
Kiteboarding lessons
A synthetic turf area
New restrooms and rinse areas
Dragon Boating
If you have wondered what dragon boating is all about, now is your chance to check it out. Dragon boating has its origins in the Pearl River Delta region in China. Traditionally made of teak, the boat is entirely man-powered. Dragon boat racing is an exciting event. There are two clubs operating in the Lagoon in Foster City. One is the Bay Area Dragons, and which is a dragon boat racing club. The Lagoon is a man-made enclosed system that covers 218 acres.
Outrigger Canoeing
The Ho'okahi Pu'uwai Outrigger Canoe Club (HPOCC) is the other club in the Lagoon. Their goal is to share their love of outrigger canoeing and other Pacific Island and Hawaiian paddling sports. They are a non-profit group with crews that train and compete. The Lagoon is dedicated to preserving Foster City's waterways. To keep noise levels low, only wind, electric, or man-powered boats and watercraft are allowed in the Lagoon.
The Vibe
Keeping the city's teens busy and active is a goal of the community. The Vibe is a newly constructed center for older kids that includes:
TV's
Video games
Artrooms
Computers
A kitchen
Outdoor basketball courts
Homework rooms
Concrete skatepark
Theatre & The Arts
Leo J. Tyan Memorial Park is home to Foster City's public amphitheater. During the summer, folks can enjoy several City Summer concerts. Right next to the park, there is a boat tie-up facility and a boardwalk to stroll along. Other theater attractions take place at the Hillbarn Theatre. This historic theatre began in 1941 and is host to traditional plays, trivia nights, and theatre classes.
Werder Pier
Werder Pier was once part of the San Mateo-Hayward Bridge expanse. It is one of the oldest and longest piers in California but sadly is no longer in operation due to needed repairs. Other interesting items of interest related to Foster City include:
Kevin Mitchell and Jeff Kent, former San Francisco Giants, call Foster City home.
Paypal founder Peter Theil was raised here.
Over the Edge is a movie based on 1973 Foster City events.
Herb Perez is a 1992 Olympic gold medalist and has served in various government positions in Foster City, including being mayor.
SERVPRO Provides Water Mitigation Services to Foster City
Burst pipes, dishwasher overflows, and similar situations can happen to anyone. When they do happen, you need fast water mitigation. Water seeps under floorboards and into places you cannot see rapidly. Even if you can get up most of the water, hidden moisture can be a problem. SERVPRO has experienced technicians that can:
Seek out hidden moisture with specialty equipment
Extract water using the right pump for the incident
Dry your home with industrial-strength air movers and dehumidifiers
Repair and restore damaged elements
Leave your home, "Like it never even happened."
If not attended to, water can cause secondary problems such as mold, damaged structural elements, and permanently ruined flooring. If you have experienced a water intrusion, do not risk damage to your home. Contact SERVPRO of Belmont/San Carlos for professional water mitigation services. Give us a call at (650) 591-4137.