Redwood City Homes Require Water Cleanup Services After a Ceiling Leak
7/16/2021 (Permalink)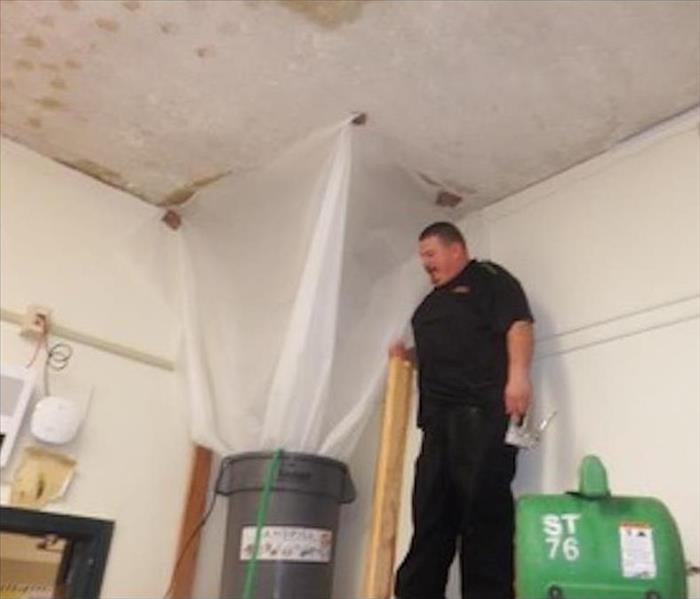 A leaking ceiling from water damage is no easy task. Call the professional team of SERVPRO for all the water mitigation services needed for your home.
SERVPRO Provides the Latest in Water Restoration for the Redwood City Community
A ceiling leak in a Redwood City home can be harmful beyond the esthetics of your home. The consequences of water damage can be long-lasting if restoration of normal humidity levels takes too long or does not happen. A professional outfit is your best option to monitor the progress of water damage restoration efforts and identify potential risks.
For water cleanup services in Redwood City, do not hesitate to call SERVPRO as soon as your emergency occurs. Whether you are looking at a ceiling leak from storms or the incident resulting from a burst pipe, our professional water restoration technicians are ready to help. Our certified team of experts arrives at your home prepared with industry-strength water extraction equipment, which might include the following-
Pumps- submersible, handheld, and truck-mounted pumps allow us to extract varying volumes of water whether it is standing in a basement or hidden behind cabinets and baseboards.
Air movers-essential to promoting the rapid evaporation of water, this equipment improves air circulation through the affected areas.
Injectri-dry technology- helpful in drying wall cavities and accessing hard-to-reach crevices where standing water accumulates.
SERVPRO of Belmont/San Carlos is an invaluable resource when water cleanup services are in order. When you find yourself in need of a team of water restoration technicians who can help you with water damage repairs, sewage cleanup, and flood restoration, do not hesitate to call us at (650) 591-4137. We aim to leave your home "Like it never even happened."