Are Refrigerated and Frozen Foods Safe for Consumption After Fire Damage Restoration in San Carlos?
8/10/2021 (Permalink)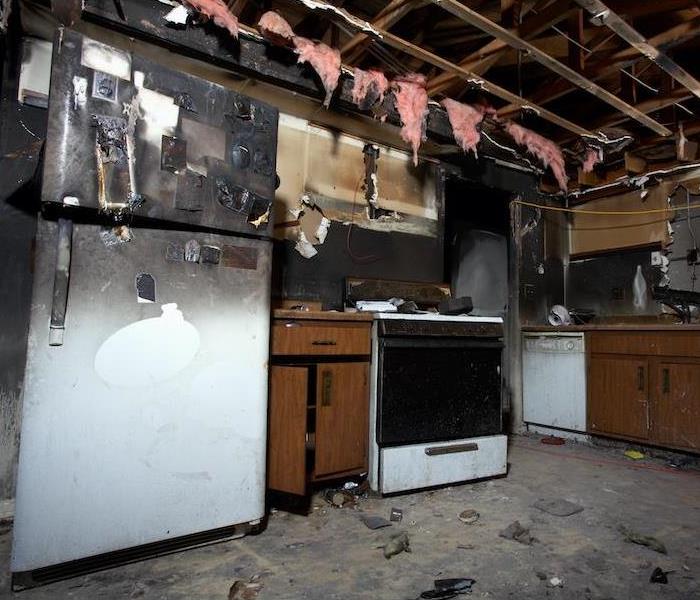 SERVPRO can help you with every step following a fire incident in your San Carlos home. Call us for help right away.
SERVPRO Technicians Can Help Fire Victims Sort Out What Foods to Keep During San Carlos Fire Damage Restoration
Homeowners have dozens of decisions to make after professional fire damage restoration in San Carlos. One category might take you by surprise -- what chilled and frozen foods can you keep without risking the health and well-being of yourself and your family?
Why Would Food Secured in a Freezer or Refrigerator Pose a Hazard?
SERVPRO weighs many considerations before declaring an opinion on food safety during fire damage mitigation and remediation in San Carlos. Heat, smoke, and soot are possible contaminants, as are the chemicals or water used for firefighting. Two significant concerns present:
Did the appliance lose power or warm from the water or the heat of the blaze during the fire, causing a temperature increase that could make foods dangerous to eat?
Did toxic residues from the fire's combustion penetrate inside the freezer or refrigerator, possibly tainting foods and beverages?
Are There Guidelines SERVPRO Follows for Chilled and Frozen Food Safety During Fire Mitigation or Remediation?
Freezer seals are not reliably airtight, requiring an investigation of each fire scene individually. Expect SERVPRO to direct you to governmental agencies' advice regarding whether the food inside a cooling or freezing appliance remains protected adequately. Some recommendations include:
Keep appliance doors tightly shut, especially if cooling and freezing are interrupted.
Inspect for soot lines or a smoky odor when first opening the appliance. Discard food if present.
Monitor temperatures of the food -- toss unless food items have temps of 40 degrees or lower.
Frozen items that thaw only to 40 degrees or colder can be cooked or refrozen.
Refreeze juices, dairy items, and baked goods as long as they maintained the 40 degree maximum.
Thawed vegetables can be refrozen only if ice crystals remain.
Work with SERVPRO of Belmont / San Carlos during and after fire damage restoration to keep your family safe. Call (650) 591-4137 for a consultation.