Commercial Restoration: What It Is And What You Need to Know
4/28/2022 (Permalink)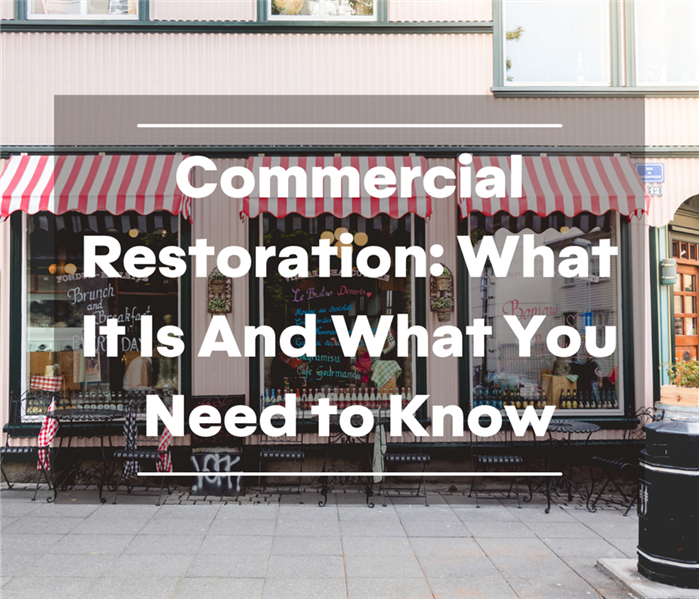 SERVPRO® helps commercial customers with a wide variety of cleaning, construction and restoration projects, both large and small.
Commercial Restoration: What It Is And What You Need to Know
At SERVPRO, we recognize that your business is essential to you, and we understand how painful it can be to incur damage to your facilities. Commercial restoration companies like ours can help you restore your business after a fire, flood, storm, or other harmful disasters. Read on to learn what you need to know commercial restoration process.
Every disaster has a unique restoration process.
Commercial restoration is a broad phrase that encompasses a wide range of restoration services to businesses or offices after a disaster. Storms, fires, floods, and other natural disasters are just a few of the many potential causes of damage to your organization, and each one necessitates a unique restoration strategy. With SERVPRO restoration experts, you can be confident that your business will promptly restore to its pre-incident state.
There is a need for a timely response.
If you wait too long to begin the method, the recovery process for commercial restoration will suffer from delayed response time. And so, we're here to answer your calls 24 hours a day, seven days a week. We also make every effort to dispatch our professionals to the location of the damage as quickly as possible to begin repairs.
There can be a slight delay in results.
However, commercial restoration does take time, and you may need to take precautionary measures to safeguard your organization in the interim. SERVPRO teams, for example, may be required to board up windows to protect your business from the elements while repairs are in progress. However, you may rest sure that we will rescue, clean, and restore as much of your property as we possibly can.
We've earned the reputation as #1 in the cleanup and restoration industry. Find more about us on SERVPRO of Belmont / San Carlos or give us a call at (650) 591-4137.