It' s a Team Effort
5/31/2018 (Permalink)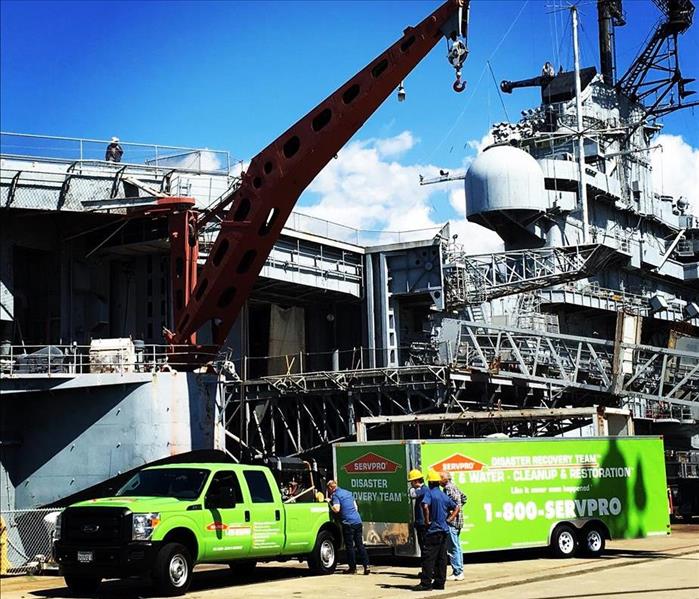 Emergency property damage happens. When it does, prompt response can save you time and money. The faster a professional mitigation expert can be on scene to mitigate the disaster the better… the scale of damage is reduced and the inconvenience to the occupants can be minimized. People may be able to stay in their residences and business tenants ay be able to continue operating when a skilled response team is in charge. That's why we provide 24/7 emergency response services for: fire and smoke, water damage, sewerage backups, window and door board-ups and crime scene cleanup.
Not everything is an emergency: Property owners, property managers and facilities personnel face a variety of important maintenance and restorations issues that can be planned and scheduled. That's why our local SERVPRO franchise performs non-emergency, specialty cleaning and restoration services such as: Mold remediation, HVAC system cleaning, odor control, graffiti abatement, hoarder scene cleanup, death scene cleanup, power washing, Asbestos removal and reconstruction services. - You don't have to have an immediate emergency to use our services.
SERVPRO is a nationwide cleaning and restoration franchise system that is well respected for its expertise in serving insurance companies. SERVPRO is proud to be an important part of that team. We also understand the property management and commercial real estate industry in our community. That's how our company began many years ago. Today, serving property managers, risk managers and facilities engineers remains our focus.