How do San Francisco Homeowners Handle Property Damage? SERVPRO of Belmont / San Carlos to the Rescue!
7/25/2019 (Permalink)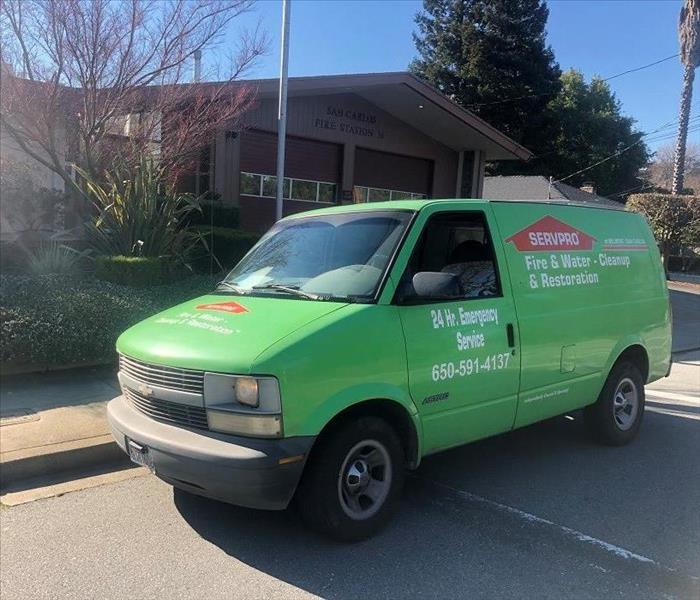 SERVPRO of Belmont / San Carlos is ready to meet property restoration needs in San Francisco. Our Green Fleet is on call 24/7.
Why Professional Restoration Services are Vital for Limiting Loss to San Francisco Homes
While DIY is never the recommended cleanup method for home disasters in the San Francisco from fire damage, water loss, flash floods and storms, earthquake or even mold, there are actions homeowners can take before help arrives.
Water damage in a San Francisco home is one of the most common types of loss that occurs. Take a minute and think of your own home, imagine all the places a pipe could leak, water tank seal failure or an accident such as forgetting a bathtub faucet was on and the tub overflows, where would the water go in your home? Since water follows the path of least resistance and goes where gravity takes it, it would stream down into your flooring. In an upstairs bathroom, it results in water removal required for floor joists and ceiling in the floor below, compounding the problem.
Before SERVPRO arrives to perform water extraction, there are things homeowners can do to limit loss, only if it is safe to do so, such as:
Mopping or blotting up excess water you can see from surfaces
Removing small items from the floor and tabletops to a dry area
If water damage is from a pipe break, turn off the water in the home
Put furnishings on wet carpeting up on blocks with foil, so the wood stain does not leech into the carpet or area rugs
Our team members hold certifications as Water Restoration Technicians and have the training and knowledge to scope the residence with advanced moisture detection devices to determine where water migrated and decide on the best kind of specialized equipment to use dependent on the type of water loss in the home. After extraction, we dry the property followed by disinfection of all water-affected surfaces.
Storm damage in San Francisco residences has many of the same concerns as other types of water damage, with a difference. There are two main types of water that enter the home-flash flood, which is groundwater and rainwater from events such as a damaged roof or broken window. While rain entering an attic poses no real threat from potential contamination, groundwater brings everything it has come into contact with into the property.
Due to the danger of slip and fall accidents, we do not advise residents to do any activity that brings them into contact with flood-damaged areas of the home unless it is safe to do so. The first concern of SERVPRO is for the safety of the residents. If there is a danger of electrical shock, we suggest not remaining on-site. We have the equipment to test the water to determine the level of toxins or contaminants. If the water is more than two inches deep, we have submersible pumps, so there are zero delays in water removal from the home. If any part of the structure has damage beyond the possibility of restoration, we are licensed general contractors #937457 for the State of California and not only perform restoration services but also reconstruction as approved and needed.
Drying and disinfection occur during floodwater mitigation, much like other water damage scenarios. However, after flood damage in a home, there are often odors left behind. Thorough drying and cleaning often reduce the residual scents, but more robust applications are sometimes required, such as ultra-low volume fogging which delivers an odor-neutralizing fog to eradicate musty odors.
Fire damage in San Francisco homes brings different challenges to our certified Fire and Smoke Damage Restoration Technicians. One of the most helpful things residents can do before our technicians arrive is to turn off their HVAC and stay out of fire-damaged areas. These actions assist in reducing the potential for the spread of soot in other areas of the house.
Containment is vital during fire cleanup and restoration. The two most common methods SERVPRO technicians use are negative air chambers or simple containment using heavy plastic over doorways and vents. We then do any necessary fire debris removal and determine the restorability potential of smoke-damaged items.
Smoke odors can be particularly stubborn to remove because when the air becomes hot, it expands. This expansion causes odor-causing soot particles to embed into porous objects. Our certified Odor Control Technicians have different types of equipment to handle any level of smoke odors. While time-release gel pellets or hand-cleaning with our professional-grade formulas assist with removing light odors, machines such as a hydroxyl generator use UV rays to capture airborne odor-causing soot particles and neutralize them.
Once SERVPRO technicians complete fire and smoke damage mitigation of the property, we provide the homeowner and adjuster with our unique Contents Claim Inventory Service that is a detailed report that catalogs every step of the restoration services including before and after photographs to assist in expediting insurance claims.
One of the most common DIY treatments SERVPRO technicians see in San Francisco homes with mold damage is the application of bleach or vinegar to kill visible colonies. In some cases, this action kills the visible colonies, but unless the circumstances halt that are encouraging spore germination and growth, the infestation is likely to return.
Our technicians scope the area to determine areas of excess moisture, which can lead to additional mold colonies that are not visible such as within wall cavities. Our certified Applied Microbial Remediation Technicians ascertain the reasons for the favorable conditions in the home supporting mold growth and the repairs necessary to end the infestation.
Much like fire damage mitigation, during mold remediation, containment is an essential part of the cleanup. This action inhibits airborne spores from spreading. After drying, we remove any visible traces of colonies and treat the areas with antimicrobial cleaners and sealers when needed to impede the return of mold.
Why SERVPRO? We know residents in San Francisco have choices for restoration services. Our technicians go through extensive training as taught through the Institute of Inspection Cleaning and Restoration Certification to learn the best practices for any home loss.
The SERVPRO of Belmont / San Carlos emergency response team is ready to assist homeowners with any type or scale event that requires restoration services. Contact us 24/7 at (650) 591-4137, and we arrive soon after your call because We're Faster to Any Size Disaster.
.