How Can I Be Sure that Water Damage in My Home is Removed?
6/25/2020 (Permalink)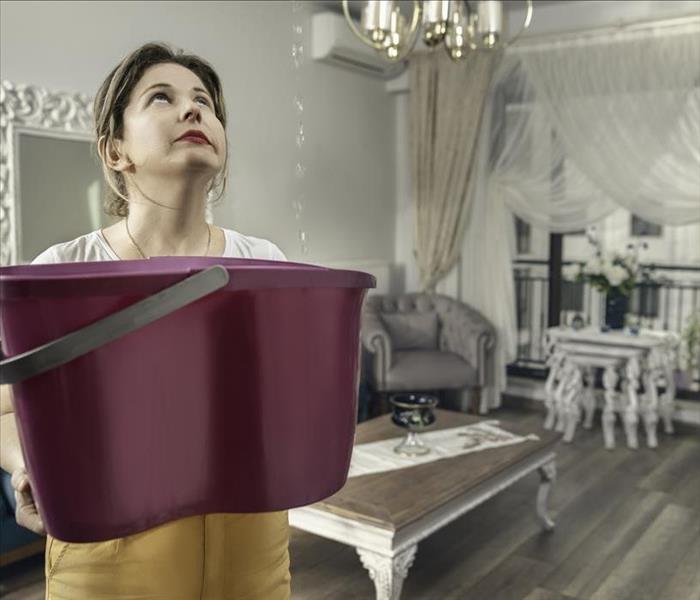 Did you notice a leak in your home from a winter rain? Call SERVPRO in Redwood City to mitigate your problem.
Count on SERVPRO When You Need Water Extraction from Your Redwood City Home
Redwood City's dry, sunny summers allow homeowners to detect water damage from winter rain and snow. The December - February rainy season could have caused roof or gutter leaks to drip water stealthily through the ceiling down interior sheetrock walls. Visible plus invisible water damage indicates an expert in water remediation, and removal, like SERVPRO, is needed.
How Else Do I Know That I Need Help Correcting and Preventing Water Damage?
As you gaze at the ceiling stains and water damage to your Redwood City home, you also notice a few grayish and black flecks in the water discolorations on the walls. This stirs you to action. What if the water damage has sneakily spread and grown mold inside the wall? Your 2020 experience with COVID-19 has altered and upgraded your expectations to a higher standard of clean and water damage restoration. A national company like SERVPRO, whose local franchise employs certified technicians, is equipped to remediate and repair the water damage to the walls and ceiling resulting from slow leaks and surface microorganisms.
What Equipment and Methods Will Certified Technicians Use to Eliminate Water Damage and Restore My Home?
Our local franchise can send IICRC Certified Technicians to scope visible and hidden water intrusions in the structure. These trusted professionals use advanced equipment to identify and classify the extent of water damage and to ensure its restoration to the highest industry standards. Some tools for detecting and correcting the breadth of damage include the following:
moisture sensors
moisture meters
extractors
HEPA filtered wet vacs and air scrubbers
Walls are inspected and carpets are examined. Dehumidifiers and deodorizers are typically placed to maximize the drying time and eliminate foul smells. The rapid response time is always matched with excellent customer service that adheres to cleaning and decontamination standards. We are Certified SERVPRO Cleaned.
SERVPRO of Belmont/San Carlos is available 24/7 to mitigate water damage to your home. Contact us at (650) 591-4137 for help.